FENN OFFERS A RANGE OF SPECIALIST BORING TOOL AND BORING BARS FOR THE AUTOMOTIVE, AEROSPACE, MARINE, AGRICULTURAL AND HEAVY PLANT INDUSTRY.
Our choice of specialist boring options range from standard boring bars to micro boring options, to specialist technology for small micro boring applications or bespoke specials. Whatever your boring tool requirements, as UK distributors for Rigibore, Fenn can offer the right solution.
Zenith is Rigibore's total automation solution to producing micron accurate bores. This innovative solution offers unparalleled savings and a tangible return on investment by reducing labour costs, eliminating scrap and supporting 24-hour production through lights-out manufacturing.
The Zenith system will integrate an ActiveEdge Boring tool with in-process measurement to enable a machine controller to automatically compensate for insert wear, temperature changes and material inconsistency without manual intervention and without stopping the manufacturing process.
This is also known as closed-loop compensation, allowing organisations to meet precision tolerances and production target in a consistent and repeatable manner.
Zenith Benefits:
Accelerate Productivity
Removes Operation Intervention
Eliminates Scrap
Improved Process Control
Reduced Cycle Time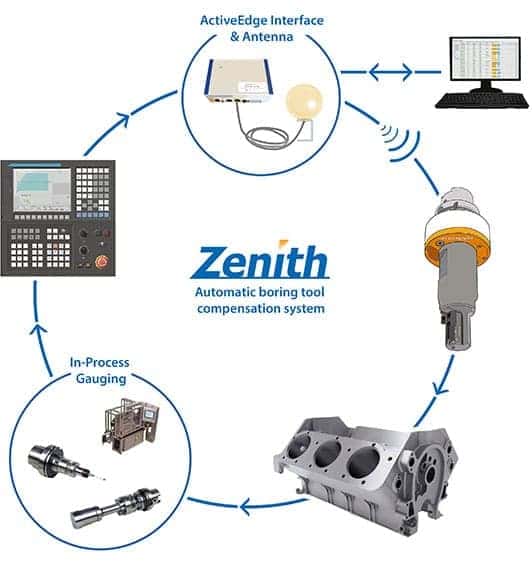 ActiveEdge offers simple and precise wireless adjustment, allowing micron accurate diameter changes at the push of a button.
Simply Entering the tools unique ID and a compensation request into the ActiveEdge Remote Control allows independent adjustment of up to seven ActiveEdge cartridges on a single tool through wireless transmission.
The ActiveEdge boring bar can be produced on any taper shank, spindle connection or adapter as required.
ActiveEdge Benefits:
Micron Accuracy
Reduced Cycle Time
Health and Safety Improvements
Simplicity In Adjustment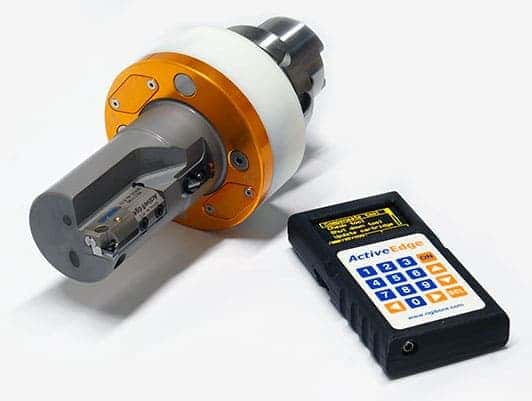 Rigibore's patented Smartbore system, allows fast, simplistic and micron-accurate 'manually operated' cutting-edge tool adjustments without removing the tool from the machine envelop from a diameter range of 16mm upwards.
Precision Smartbore cartridges can be adjusted at the twist of the wrist, using the Smartbore Digital Adjuster. The micron-accurate changes are displayed clearly on the LCD screen of the Adjuster, ensuring operators of all skill and experience levels can meet critical tolerance requirements.
Multiple Smartbore cartridges can be manufactured on a single tool, allowing multiple diameters to be machined simultaneously, reducing cycle time significantly. Smartbore's design flexibility allows cartridges to be manufactured as a built-in solution, or as replaceable cartridges.
Smartbore Benefits:
Single or multi-feature tooling capabilities
Reduce spindle downtime
Minimised cycle time
Micron-accuracy maintained regardless of varying skill levels
Cartridge adjustment down to 0.6mm (1 micron)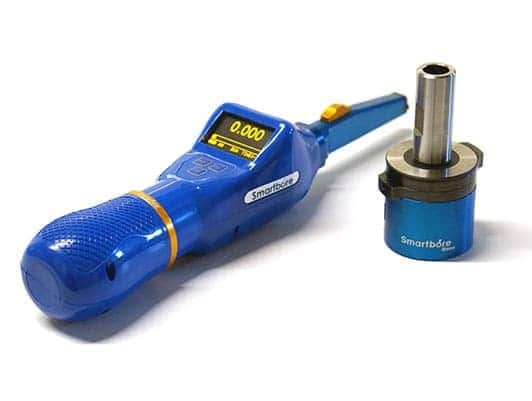 Rigibore's Smartbore Nano combines simplicity and precision to excel on small hole boring operation. The Smartbore Nano digital fine boring head covers a boring range from 0.5mm-16mm on diameter, with precision adjustment of 0.001mm.
The design applies patented Smartbore technology to perform precise diameter changes, using the handheld Smartbore Digital Adjuster. The dynamic design reduces downtime in operation, improves finish quality and allows operators to meet precision tolerances without clamping in adjustment.
Smartbore Nano's functional design houses electronic components in the Smartbore Adjuster, keeping sensitive electronic outside the working environment. The risk of tool damage from collisions with chips or coolant are removed, as well as reducing unit costs on operations with multiple heads.
Smartbore Nano Benefits: –
Reduced spindle downtime
Reduced cost on multiple boring heads
Simplistic digital adjustments
Eliminates Vibrations
Allows insert changes to support ant material grade for the application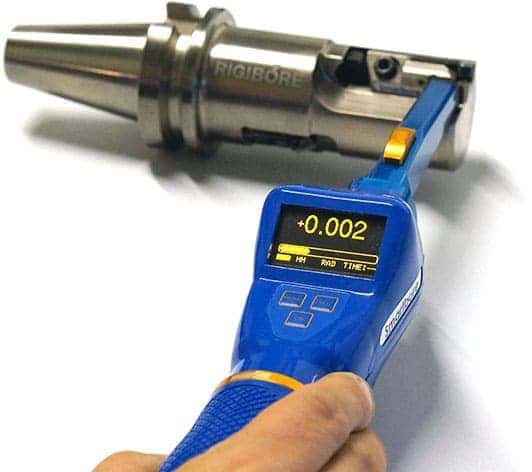 Special Boring Tool Capabilities
Rigibore is a world leader in the manufacture of custom or multi-feature boring tools. With decades of knowledge and experience, we design and manufacture special tooling to achieve our customer's production objectives. Our engineering expertise can reduce cycle time, improve part quality and process reliability, in addition to reducing overall tooling costs.
A fast quotation service (typically within 24 hours) is standard for special tooling, made possible with RADS, Rigibore's own tool design software. RADS has the ability to manufacture combination tools, allowing customers to machine multiple concentric features in one machining operation. This design capability contributes to a greatly reduced cycle time, performing roughing and finishing operations in one pass.
Rigibore's RADS software allows the design of back boring and eccentric tools for particular applications, as well as the ability to apply carbide support pads on long boring operations which minimises vibrations. Delivery is typically 4-6 weeks from customer approval.
Special Tool Benefits: –
Reduced Cycle Time
Value for Money
Enhanced Process Reliability
Improved Part Quality